Multiple Listing Portfolios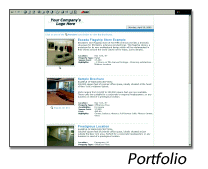 Click to see example

Metropole360 enables you to easily bundle Brochures together to create multiple listing Portfolios. Simply, group your Brochures by category or interest (size, type or location) and instantly create customized Portfolios to give your prospective clients a full 360° view of your company's offering tailored to their needs and interests. Brokers may also set their preferences to link all their listings Brochures into a Portfolio. Each Portfolio includes 360° thumbnail pictures and overviews of each property. This enables users to rapidly access your comprehensive property listings by clicking directly within the Portfolio. What's more, Metropole360 records the traffic that your Portfolios and individual Brochures are generating.

Click "Next" to learn how you can create, implement and manage an online direct marketing program using your interactive Brochures and Portfolios.