Direct Marketing System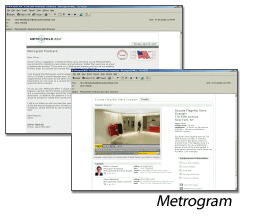 Use the Metropole360 platform to host the online equivalent of an open house for a thousand people or a private viewing for a select group of individuals. E-mail (or Metrogram) your prospective clients directly from the platform. Instantly, they receive an interactive 360° Metrogram in their inboxes and are transported visually to your properties. Our reporting technology tracks your Metrogram's viewing traffic, so you know which prospects to follow up with first and which of your listings are "hot." You can also create full-scale direct marketing campaigns using the Mail Group feature.

To learn about Metropole360 Brochure Builder Account Management tools, click "Next."