Interactive Brochures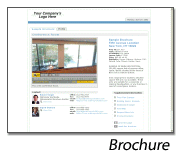 Click to view Brochure.
At Metropole360, we have taken the virtual tour concept to the next level. Metropole360 Brochures allow you display all the aspects of your property in one attractive, well-organized interactive booklet. Property photos (360° or still) are put into context as each image is synchronized with your descriptions and comments. Brochures are equipped to display as much or as little information as you desire; simply fill out the online form and listing information (highlights, price, square footage, location, type) automatically appears. In addition, Metropole360ís unique Supplemental Information module links driving directions, online maps, additional listings and any digital file (PDF flyers, AutoCAD/GIF floor plans, building specifications, leases, demographics, multimedia files and PowerPoint presentations) to your online listing. Contact information is conveniently bundled with every Brochure to include yourself and any of your associates (complete with optional photo and bio) as is a special corporate profile link for brokerage and/or ownership. Each Brochure is preset to include your firmís unique branding specifications (logo and colors). As real estate professionals, we know how important your time is to you, so full featured Brochures can be created in less than 10 minutes - enabling you to inform your clients more quickly and comprehensively.
Once you have created a Brochure it can be bundled with other Brochure listings into Portfolios and e-mailed to your entire client base in Metrograms, click "Next" to learn more...